Introduction
Assessment, both formative and summative, is a powerful teaching tool that is critical to eliciting student understanding and planning instruction. By asking the right questions, making keen observations on the fly, analyzing student work, and assessing the right topics at the right time, teachers can open a critical window into what students understand and where they still have misconceptions. Knowing what students understand and don't understand provides a clear starting place for instruction and a roadmap for meeting the needs of each individual learner. LearnZillion's curriculum has been intentionally designed to provide both formal and informal opportunities to elicit and respond to valuable information about student understandings and misconceptions.
Opportunities for Assessment in the Curriculum
Informal Observations and Noticings
Every lesson presents an opportunity for teachers to gather informal and anecdotal information to better support students and make instructional decisions. In addition to routines that may already be part of your classroom, lessons in the curriculum offer many opportunities to ask questions and observe student work.
Suggested questions (and possible student answers) can be found throughout the teaching notes, as shown below: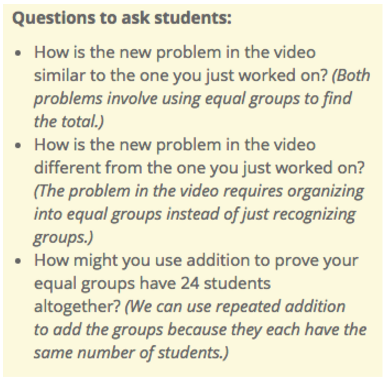 Prior to teaching a lesson, thoroughly review the lesson materials and teaching notes to determine which questions you will ask students. You may also have additional questions to add based on your knowledge of your students.
Task Implementation Guide
In all Conceptual Understanding and Application lessons (which constitute about two-thirds of the total lessons in the curriculum) students engage with a rigorous task designed to induce productive struggle and facilitate mathematical reasoning and discourse. While students are working out the task independently or in small groups, you have an opportunity to probe their understandings and misconceptions. The information gleaned from this questioning should not be used to immediately teach, redirect, or remediate students who are struggling in-the-moment to solve the task. Rather, use the information you gather to facilitate a meaningful discussion of student work following task work time.
The Task Implementation Guide is a tool to support these observations of student work time. It is designed within the specific context of each lesson to give you a window into what students understand, where their understanding starts to break down, and what misconceptions are blocking them. An example is shown below: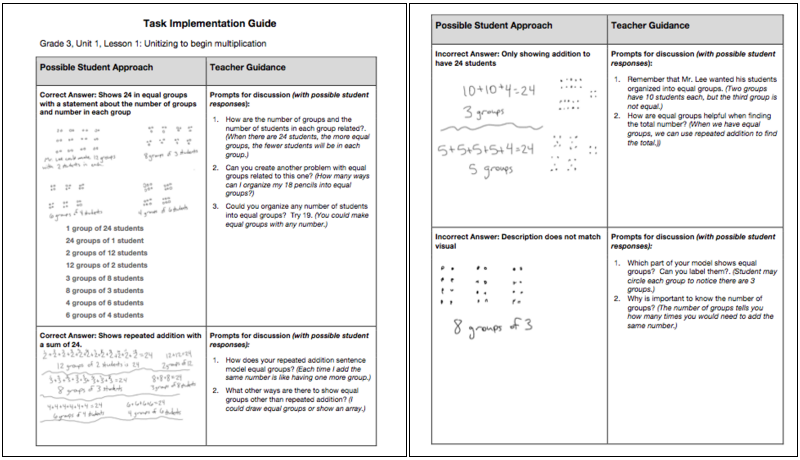 The Task Implementation Guide consists of:
2-4 possible approaches to the task that students might use (both correct and incorrect)
Questions and prompts that you can use in-the-moment to better understand student thinking
Possible student responses to questions
The Task Implementation Guide can be accessed from the teaching notes or the "Additional Materials" tab of any Conceptual Understanding or Application lesson.
Exit Ticket
Every lesson in the curriculum includes an "Exit Ticket." Exit Tickets are a formative assessment designed to assess student grasp of the lesson objective by posing a task or problem similar to the those addressed in the lesson. Student work on Exit Tickets should be collected and quickly analyzed following the lesson. Guidance in the teaching notes provides not only the correct solution(s), but also common errors that students are likely to make. For each common error, the teaching notes explain the likely misconception causing the student to make the mistake as well as instructional guidance.
After carefully analyzing your students' Exit Tickets, use the misconception and instructional guidance provided in the teaching notes to help you make instructional decisions and groupings for the next day's lesson. In the "Additional Materials" tab, you can also access suggested "Intervention" and "Extension" lessons, videos, and resources. These may provide further support for students depending on their work.
An example Exit Ticket and teaching notes with guidance on common errors is below: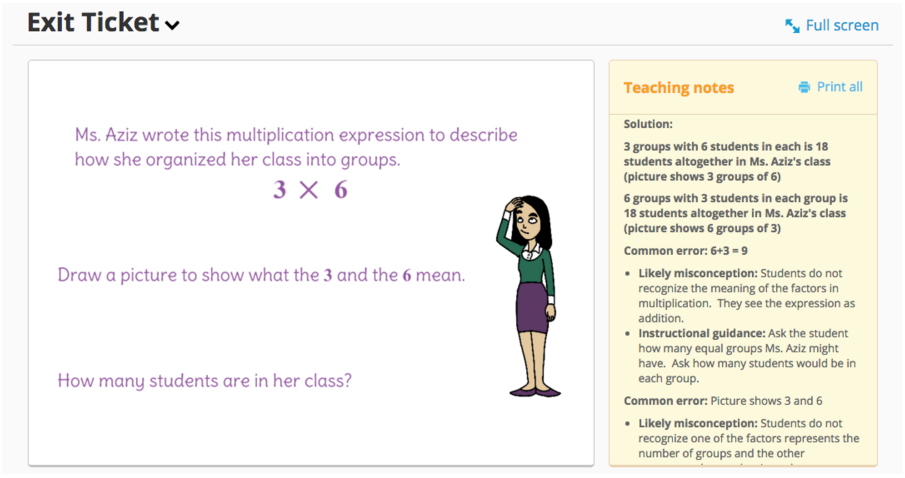 Exit Tickets and the teaching notes that go with them can be found following the "Closing" section of each lesson in the curriculum.
Unit Assessments
Each unit includes a summative Unit Assessment designed to assess student understanding of the Key Concepts in the unit. While lessons in the units offer opportunities for reaching beyond the statements in the Standards, the summative Unit Assessments are designed to assess students at, and not beyond, the level of the standard.
Each assessment consists of 8 to 12 assessment items.
Unit Assessments in Grades K-1
In Grades K-1, Unit Assessments are printable and intended to be completed off-line. Assessments in Kindergarten and early Grade 1 are designed to be conducted in an interview style or in a small group with a teacher to student ratio of about 1:6. Students are not expected to read the assessments independently and will require support in reading them. There is a gradual release of responsibility as students' reading ability grows in Grade 1. To support the Concrete-Representational-Abstract approach, manipulatives and graphic organizers (ten frames, part-part-whole mats, etc.) used during instruction should be provided to students as they work on the assessments.
An example assessment from late Grade 1 is shown below: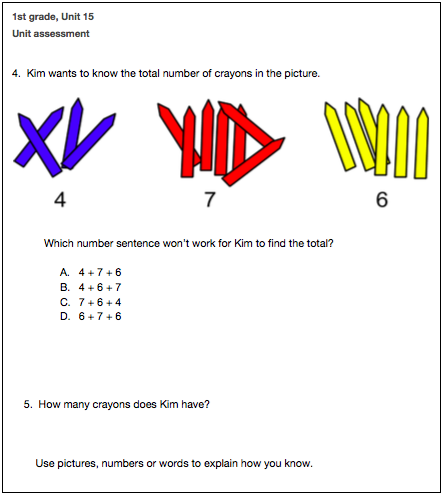 Grade K-1 Unit Assessments include:
8-12 paper-pencil assessment items
Guidance for conducting an assessment interview, as appropriate to the unit
Scoring guidance with explanatory notes for teachers
Unit Assessments in Grades 2-8
In Grades 2 through 8, Unit Assessment items are technology-enhanced and reflect item types similar to those found on next generation assessments. Printable versions of the assessment are also becoming available. Although the technology-enhanced items are automatically scorable, they are designed to assess procedural skill as well as understanding.
An example of a technology-enhanced assessment item designed to assess procedural skill is below. For this item, students would need to perform the operation in order to decide if the equation is true or false.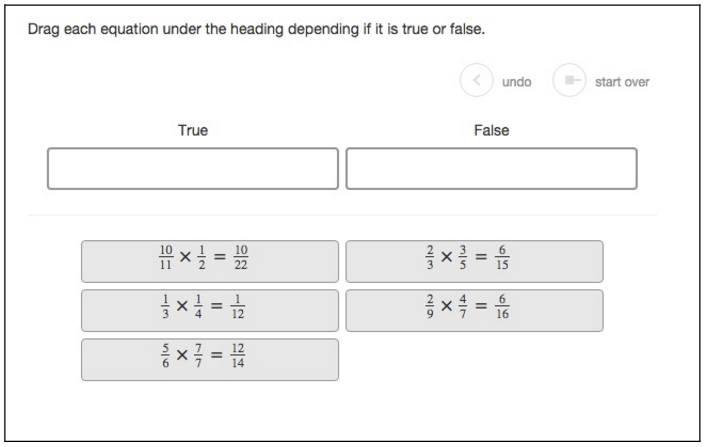 An example of an item that is designed to assess understanding is below. To answer this item correctly, students would need to interpret each description and decide if ¾ is a match. The teacher gets excellent information about student understanding from looking at the data about which options students choose and do not choose.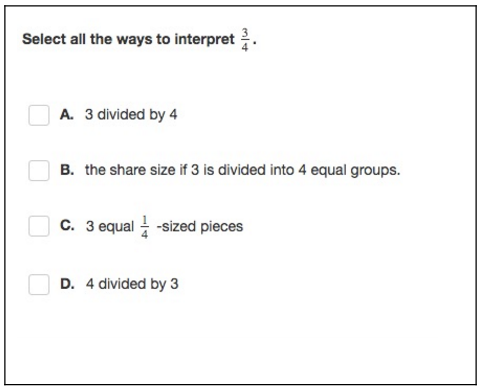 Grade 2-8 unit assessments include:
8-12 technology-enhanced items that can be completed online
Automatic scoring
Printable versions of the assessments
Ability to assign assessments directly to student accounts
Data tracking and reporting to support analysis and intervention