Structure of the LearnZillion Math Curriculum
The LearnZillion K-8 Math Curriculum is made up of sequential units informed by the scope and sequence created by the Charles A. Dana Center. Each unit is made up of lessons that are designed to engage students in productive struggle to learn mathematics concepts with understanding.
Sets of 3-5 lessons work together to support learning about a Key Concept relevant to the Common Core Standards addressed in each unit.
Each lesson includes several opportunities for formative assessment of students' progress, and each unit includes a summative assessment to assess students' mastery of the focus standards of the unit.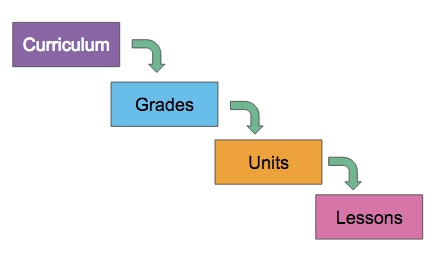 Key Concepts
At the core of each unit are Key Concepts. Key Concepts are statements that describe what students should learn and understand about math.
These statements are slightly different from Common Core State Standards. Key concepts are mathematical statements that form the underpinnings of the LearnZillion Math Curriculum. They are derived from the Common Core State Standards, but whereas the Standards begin with action statements, such "explain why", "compare", or "recognize", the Key Concepts describe what students should understand about mathematics.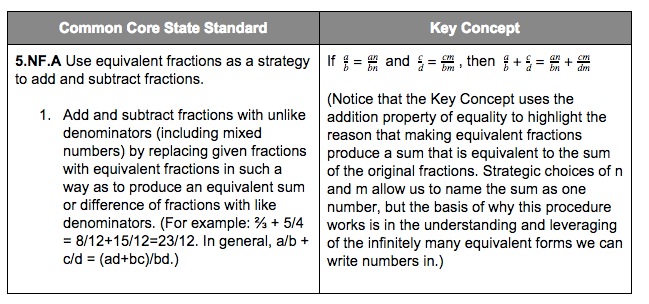 The Three Types of Lessons
Each Key Concept in the curriculum is taught through a combination of three lesson types: Conceptual Understanding, Fluency/Procedural Skills, and Application lessons.

The three lesson types provide a balanced approach to the three aspects of rigor called for in the Common Core State Standards.
Conceptual Understanding lessons: introduce new concepts. Students engage in a productive struggle to learn something new about math.
Fluency/Procedural Skills lessons: teach and/or give students a chance to practice an efficient way to do math and understand why the efficient way works.
Application lessons: allow students to apply their math understanding and use procedural skills to solve familiar and unfamiliar problems.
Lesson Components
Each type of lesson has standard components.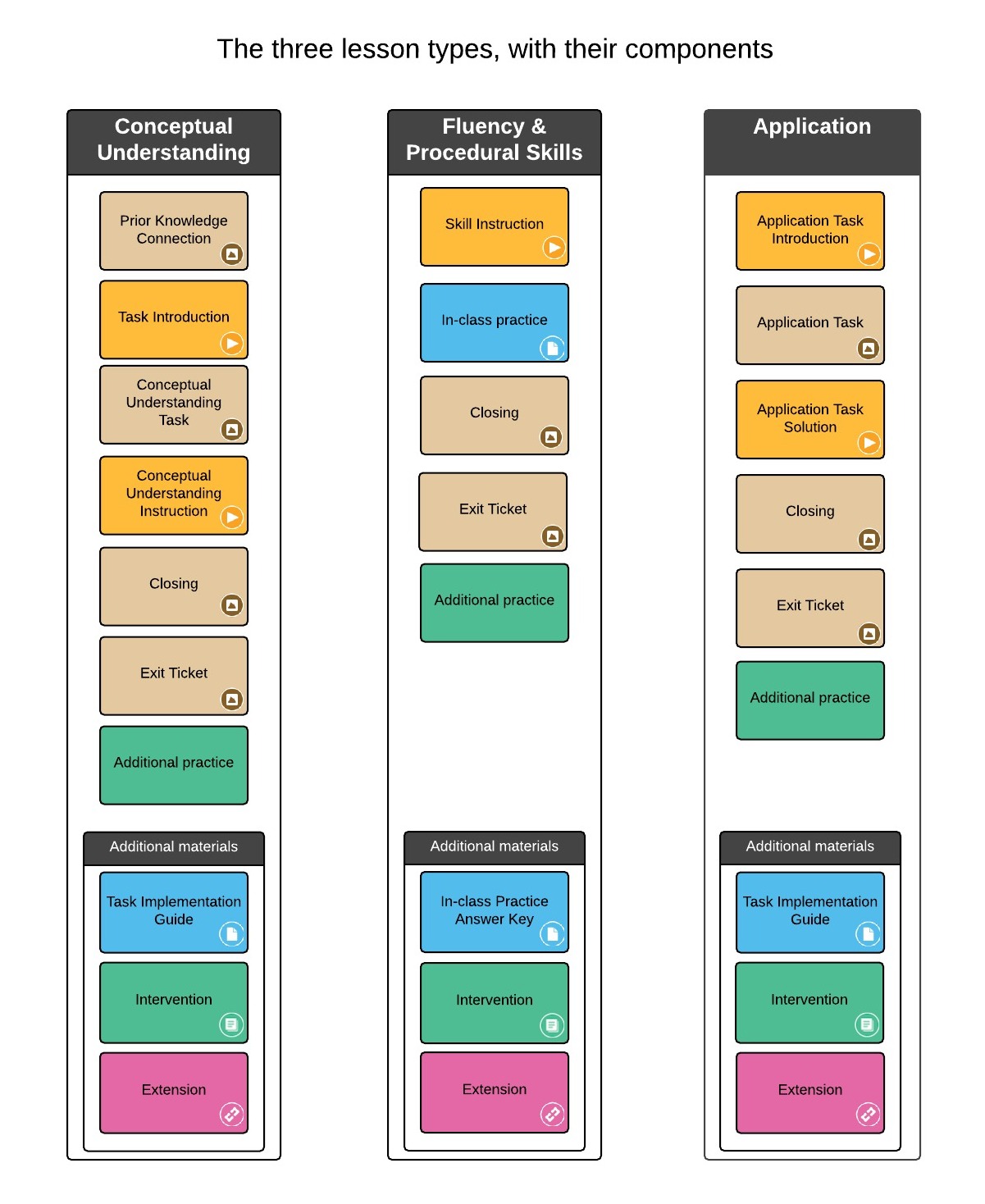 What is productive struggle?
In the K-8 LearnZillion Math Curriculum, the majority of lessons are intentionally designed to induce productive struggle. Productive struggle is the process of expending effort to make sense of important ideas, concepts, or connections that are within reach but require new understanding. Through productive struggle, one builds conceptual understanding and develops perseverance while also restructuring existing understandings.
Productive struggle is a powerful component of math education. In particular, productive struggle supports learning in the following ways:
Students develop deeper and more useful math competencies
Students perform better in situations that require more than routine knowledge of arithmetic

Students demonstrate significantly higher recall of number facts
How does the LearnZillion math curriculum support productive struggle?
In Conceptual Understanding lessons and Application lessons, students spend the majority of class time engaged productive struggle with a worthwhile task or problem. Time is also then devoted to discussion of the student work, approaches, and conclusions that are a direct result of working with a challenging task.
Additionally, it is important to remember that at the end of a Conceptual Understanding lesson, students are not expected to be proficient at solving problems like the one presented in a task. Fluency and Procedural Skills lessons (which follow Conceptual Understanding lessons in a sequence) provide an opportunity to formalize notation, terminology, or skills.
What role do the videos play?
Short videos "bookend" lessons in order to launch the learning experience at the beginning, and provide a clear explanation that connects the task to previous student understanding and/or present a possible solution to a given task at the end. The instructional and solution videos provided at the end of lessons are only meant to be used after students have engaged deeply with the task on their own and have had an opportunity to discuss it with their peers. Likewise, videos are not meant to imply a single best approach to the tasks. Rather, video are provided as a viable explanation for students, as well as an example for teachers of how they might explain a concept or connect expressions and equations to visual or physical representations and models of real-world or mathematical situations.
How do I teach a Conceptual Understanding Lesson?
You can follow this simple daily planning checklist to prepare for teaching Conceptual Understanding Lessons.
Before

Prepare the lesson

Read the teaching notes for every card

Read/watch all lesson cards in order

Print and read through the Task Implementation Guide

During

Engage students in the work of the task

Present all the cards in order and follow the teaching notes

Allow all students to work on the task and use the Task Implementation Guide to monitor student understanding

Use the Task Implementation Guide to facilitate a discussion about the work of the task

After

Assess and plan ahead

Review student responses to Exit Tickets and Additional Practice

Use data from Exit Tickets and Additional Practice to make instructional decisions

Find Intervention and Extension lessons in the Additional Materials tab
Download the checklist here: