Grade overview
What is included in the year?
Grade 2 LearnZillion Math Companion Curriculum consists of 15 units and a total of 161 lessons. Each lesson is designed to be completed in one 45-55 minute class period. Each unit includes a summative Unit Assessment designed to be completed in one class period, this assessment day is not included in the number of days allotted to lessons. The organization of the units, and lessons within each unit, creates a coherent sequence based on the progressions of the standards. As shown in the figure below, the majority of lessons are focused on the major work of Grade 2. The remaining lessons focus on supporting or additional clusters, often in the service of the major work. In second grade, 71% of lessons (114 lessons) are devoted to the major work of the grade. Many lessons dedicated to major work standards are enhanced and deepened by simultaneously engaging students in standards from supporting or additional clusters. In some instances when appropriate, students work only with supporting or additional work clusters.
Grade 2 lesson focus across major, supporting, and additional clusters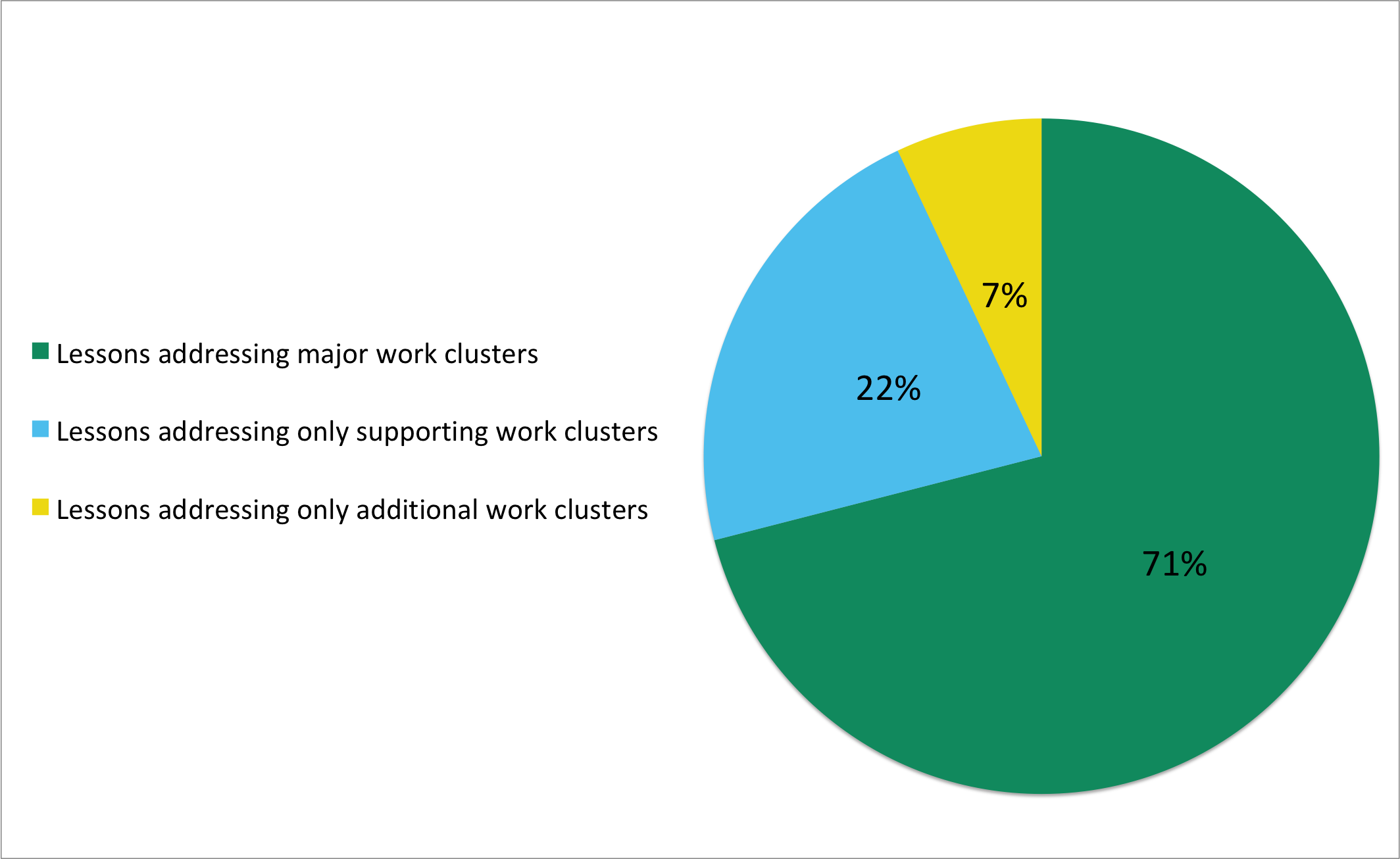 Grade 2 units across the year
| Unit | Title | Major work clusters | Supporting clusters | Additional clusters |
| --- | --- | --- | --- | --- |
| 1 | Adding and subtracting within 100 | 2.OA.A, 2.OA.B, 2.NBT.B |   |   |
| 2 | Exploring standard units of length | 2.MD.A, 2.MD.B |   |   |
| 3 | Relating addition and subtraction strategies to length | 2.MD.B, 2.OA.A |   |   |
| 4 | Relating skip counting to time | 2.NBT.A | 2.MD.C |   |
| 5 | Solving problems involving money |   | 2.MD.C |   |
| 6 | Understanding three-digit numbers | 2.NBT.A |   |   |
| 7 | Expressing and comparing three-digit numbers | 2.NBT.A |   |   |
| 8 | Relating skip counting to mental addition and subtraction | 2.NBT.A, 2.NBT.B |   |   |
| 9 | Generating and representing measurement data to solve problems | 2.OA.A | 2.MD.D |   |
| 10 | Reasoning with shapes and their attributes |   |   | 2.G.A |
| 11 | Applying strategies to add and subtract within 1,000 | 2.NBT.B |   |   |
| 12 | Developing foundations of multiplication through exploring even and odd numbers |   | 2.OA.C |   |
| 13 | Using arrays for foundations of multiplication |   | 2.OA.C |   |
| 14 | Estimating and comparing lengths | 2.MD.A, 2.MD.B |   |   |
| 15 | Demonstrating fluency in addition and subtraction | 2.OA.A, 2.OA.B, 2.NBT.B |   |   |
---
Overview of Grade 2 Major, Supporting, and Additional Work
Major work of the year
The major work in second grade extends the meanings of addition and subtraction and understandings of the base ten number structure. Second graders develop fluency with all the combinations within 20, using those combinations to fluently solve addition and subtraction problems within 100. They understand multi-digit numbers (up to 1000) and use that knowledge to solve problems by using concrete and drawn models, developing generalizable methods and applying the properties of the operations. Students will represent and solve one-step word problems of all 12 problem types. They will also solve two-step problems with the more familiar types.
Second grade students extend understanding of base ten notation as they build on the ideas in first grade of tens and ones, recognizing that the digits in each place of a three-digit number represent amounts of thousands, hundreds, tens, and ones (e.g., 756 is 7 hundreds + 5 tens + 6 ones). They decompose numbers in various ways and compare numbers based on the meaning of the hundred, tens, and ones digits. Students use this understanding to mentally add and subtract either 10 or 100 to any number between 100 and 900. Foundational ideas for multiplication are explored as students extend counting methods to include counting by fives, tens, and hundreds.
As students have opportunities to measure a variety of objects, they recognize the need for standard units of measure. They use a variety of tools and develop strategies for using centimeters and inches to describe length. Second grade students work with the important idea of iteration and recognize that the smaller the unit, the more iterations are needed to cover a specified length. Students use appropriate tools and units to determine the length between two objects.
Second grade students relate addition and subtraction to length as they solve problems involving concepts of length. They use the number line to represent whole numbers as lengths from 0 and also represent whole number sums and differences within 100. Students become proficient in representing addition and subtraction situations with the appropriate equations.
Supporting work
The major work of solving addition and subtraction problems is supported as second graders, collect, represent, and interpret data. Students are able to note particular aspects of collected data and determine which categories have the most/least responses and solve simple one-step problems using information from graphs.
As second graders work with time and money, the major work is supported through connections to skip counting and the operations of addition and subtraction. The work with time in first grade is extended to include telling time to the nearest five minutes on both analog and digital clocks.
Second graders develop strategies for determining if a number represents an odd or even number of objects. They use rectangular arrays to represent repeated addition and they write equations as the sum of equal addends laying the foundation for the multiplication work of third grade.
Additional work
The additional work in second grade supports the major work of the grade. Students build on the work with shape from first grade as they describe and analyze shapes by examining their sides and angles. They work to decompose and compose shapes to make new shapes. The work of later grades surrounding ideas such as volume, congruence, and symmetry is supported as second graders build, draw, and analyze two and three dimensional shapes.
As students partition circles and rectangles into halves, thirds, and fourths, they are building critical ideas about fractions which will support the major work of third grade. Students realize that equal shares do not need to have the same shape.

The lesson plans in LearnZillion's full math curriculum, by LearnZillion, Inc. are licensed under a Creative Commons Attribution-NonCommercial-ShareAlike 4.0 International License.
Please attribute any derivative work to https://learnzillion.com.