Grade overview
What is included in the year?
Grade 1 LearnZillion Math Companion Curriculum consists of 18 units and a total of 155 lessons. Each lesson is designed to be completed in one 45-55 minute class period. Each unit includes a summative Unit Assessment designed to be completed in one class period, this assessment day is not included in the number of days allotted to lessons. The organization of the units, and lessons within each unit, creates a coherent sequence based on the progressions of the standards. As shown in the figure below, the majority of lessons are focused on the major work of first grade. The remaining lessons focus on supporting or additional clusters, often in the service of the major work. In first grade, 81% of lessons (126 lessons) are devoted to the major work of the grade. Many lessons dedicated to major work standards are enhanced and deepened by simultaneously engaging students in standards from supporting or additional clusters. In some instances when appropriate, students work only with supporting or additional work clusters.
Grade 1 lesson focus across major, supporting, and additional clusters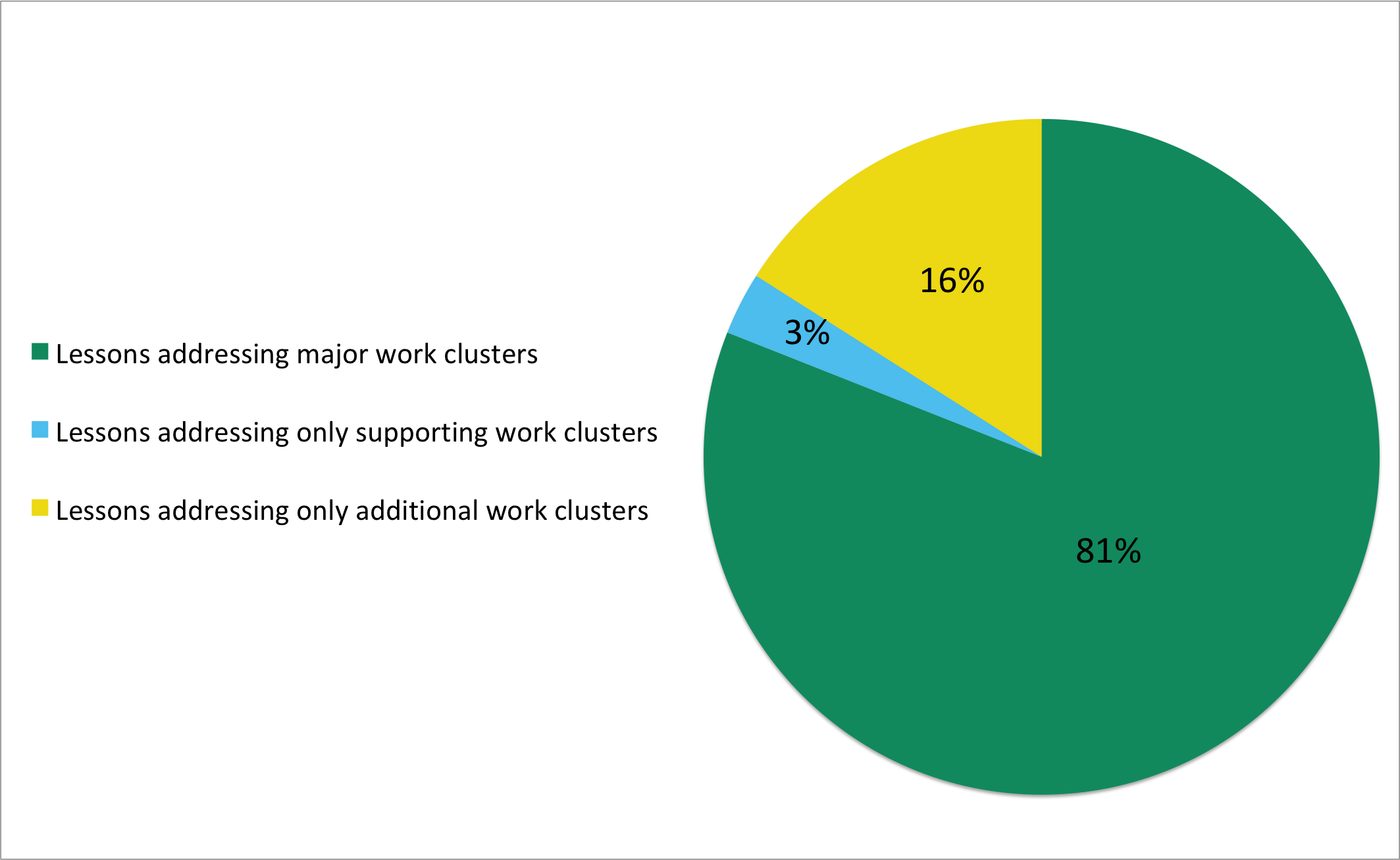 Grade 1 units across the year
| Unit | Title | Major work clusters | Supporting clusters | Additional clusters |
| --- | --- | --- | --- | --- |
| 1 | Understanding ten ones make a ten | 1.NBT.B, 1.OA.A |   |   |
| 2 | Using data to add and subtract to 20 | 1.OA.A, 1.OA.C | 1.MD.C |   |
| 3 | Ordering and comparing lengths | 1.MD.A |   |   |
| 4 | Exploring quantities to 99 | 1.NBT.A |   |   |
| 5 | Telling and writing time to the hour |   |   | 1.MD.B |
| 6 | Developing addition and subtraction strategies | 1.OA.B |   |   |
| 7 | Distinguishing attributes of shapes |   |   | 1.G.A |
| 8 | Using place value to read, write, represent, and compare numbers | 1.NBT.A, 1.NBT.B |   |   |
| 9 | Extending strategies for solving addition and subtraction problems | 1.OA.A, 1.OA.B, 1.OA.C, 1.OA.D | 1.MD.C |   |
| 10 | Telling and writing time to the half hour |   |   | 1.MD.B |
| 11 | Adding multiples of ten | 1.NBT.C |   |   |
| 12 | Composing and drawing shapes |   |   | 1.G.A |
| 13 | Interpreting and using symbols in numeric expressions and comparisons | 1.OA.D, 1.NBT.C |   |   |
| 14 | Using understanding of place value to add and subtract | 1.NBT.C |   |   |
| 15 | Applying properties of operations to solve addition problems | 1.OA.A, 1.OA.B |   |   |
| 16 | Measuring lengths with non-standard units | 1.MD.A |   |   |
| 17 | Finding equal shares of shapes |   |   | 1.G.A |
| 18 | Demonstrating proficiency in addition and subtraction situations | 1.OA.A, 1.OA.C |   |   |
---
Overview of Grade 1 Major, Supporting, and Additional Work
Major work of the year
The major work in first grade is focused on developing an understanding of addition and subtraction and solidifying strategies for adding and subtracting within 20. First grade students build fluency within ten and apply that fluency to extend their strategies beyond counting all to strategies such as counting on and using number relationships such as the make a ten strategy. Students prior work with smaller numbers in Kindergarten and the use of a variety of models (both discrete and continuous models) support the development of these strategies. First grade students further develop their understanding of the relationship between addition and subtraction, and call upon that understanding to solve a variety of problem types. Another important part of the major work of first grade is developing understandings of whole number relationships and place value. First grade students work with the idea of grouping in tens and ones and they consider whole numbers between 10 and 100 in terms of tens and ones. They generalize methods for adding within 100 and subtracting multiples of 10. Building on the major work of the prior grade, students extend the counting sequence to 120 and read, write, and compare numerals. The meaning of the equal sign is explored and students develop justifications for true/false statements.
First grade students extend measurement concepts by measuring lengths indirectly and by iterating length units. They express the length of whole number lengthed objects and compare the length of units, including ordering three objects by length.
Supporting work
First grade students collect, represent, and interpret data with up to three categories. They collect categorical data and organize the data into charts or tables. As students ask and answer questions about their data collections, they are supporting their understanding of the major work goals surrounding number and operations. This work builds a strong foundation for the data work in second grade which includes pictographs and bar graphs.
Additional work
The additional work in first grade supports the major work of the grade. Students in first grade also reason about shapes and their attributes. They distinguish between defining attributes and non-defining attributes and use that knowledge to build, draw and describe geometric shapes. Students compose and decompose plane and solid figures and build an understanding of part-whole relationships. Foundational ideas about fractions which will build in later grades are explored as students develop ways to describe equal shares ( halves and fourths) as they partition circles and rectangles. First grade students also learn to tell time to the hour and half hour.

The lesson plans in LearnZillion's full math curriculum, by LearnZillion, Inc. are licensed under a Creative Commons Attribution-NonCommercial-ShareAlike 4.0 International License.
Please attribute any derivative work to https://learnzillion.com.