Table of contents
Overview of Grade 8 Major, Supporting, and Additional work
---
Units
---
What is included in the year?
Grade 8 LearnZillion Math consists of 14 units and a total of 145 lessons. Each lesson is designed to be completed in one 45-55 minute class period. Each unit includes a summative Unit Assessment designed to be completed in one class period, this assessment day is not included in the number of days allotted to lessons. The organization of the units, and lessons within each unit, creates a coherent sequence based on the progressions of the standards. As shown in the figure below, the majority of lessons are focused on the major work of Grade 8. The remaining lessons focus on supporting or additional clusters, often in the service of the major work. In eighth grade, 77% of lessons (112 lessons) are devoted to the major work of the grade. Many lessons dedicated to major work standards are enhanced and deepened by simultaneously engaging students in standards from supporting or additional clusters. In some instances when appropriate, students work only with supporting or additional work clusters.
Grade 8 lesson focus across major, supporting, and additional clusters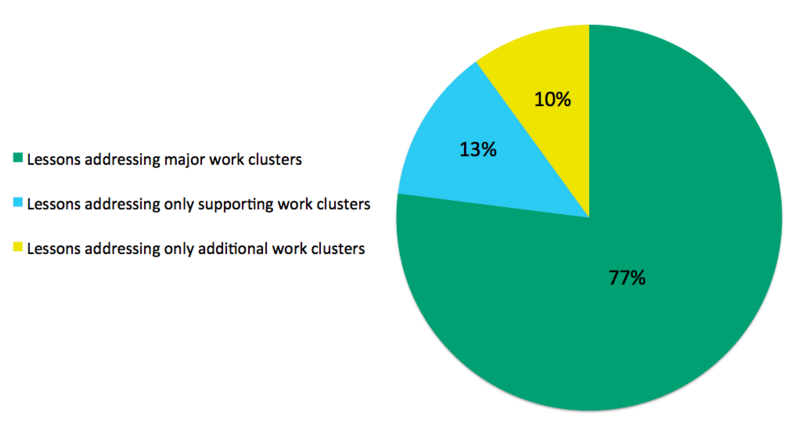 Grade 8 units across the year

---
Overview of Grade 8 Major, Supporting, and Additional Work
Major work of the year
A new concept for the 8th grade level is the idea of a function. Students define what a function is and evaluate and compare different types of functions. They describe functions mathematically as relationships between quantities. Students apply their experience with proportional relationships to understand lines and linear equations, specifically with slope and the Pythagorean Theorem. They solve single and simultaneous pairs of linear equations and interpret the meaning of those equations. Students use their experience comparing features of geometrical figures in earlier grades to explore congruence and similarity with physical and digital models. Their understanding of simple exponents is expanded to include larger integer exponents as well as radicals.
Supporting work
Students are introduced to irrational numbers and use rational numbers to estimate their value (i.e. pi = 22/7). They examine bivariate data to explore patterns of association, including estimating lines of best fit.
Additional work
Students use their understanding of volume to solve problems with cylinders, spheres, and cones.
---

The lesson plans in LearnZillion's full math curriculum, by LearnZillion, Inc. are licensed under a Creative Commons Attribution-NonCommercial-ShareAlike 4.0 International License.
Please attribute any derivative work to https://learnzillion.com.