Table of contents
Overview of Grade 7 Major, Supporting, and Additional work
---
Units
---
What is included in the year?
Grade 7 LearnZillion Math consists of 14 units and a total of 149 lessons. Each lesson is designed to be completed in one 45-55 minute class period. Each unit includes a summative Unit Assessment designed to be completed in one class period, this assessment day is not included in the number of days allotted to lessons. The organization of the units, and lessons within each unit, creates a coherent sequence based on the progressions of the standards. As shown in the figure below, the majority of lessons are focused on the major work of Grade 7. The remaining lessons focus on supporting or additional clusters, often in the service of the major work. In seventh grade, 77% of lessons (112 lessons) are devoted to the major work of the grade. Many lessons dedicated to major work standards are enhanced and deepened by simultaneously engaging students in standards from supporting or additional clusters. In some instances when appropriate, students work only with supporting or additional work clusters.
Grade 7 lesson focus across major, supporting, and additional clusters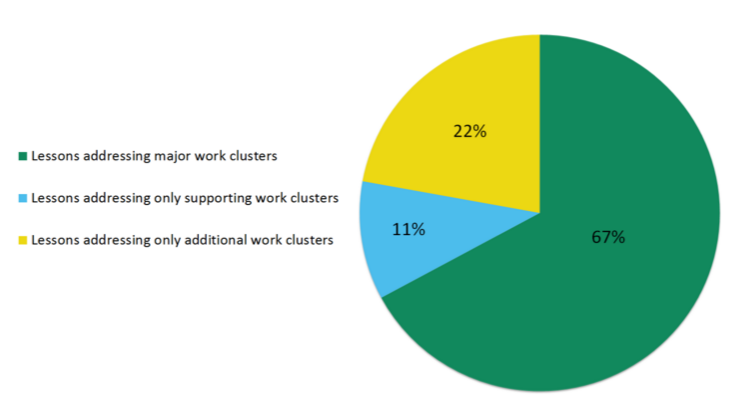 Grade 7 units across the year

---
Overview of Grade 7 Major, Supporting, and Additional Work
Major work of the year
At the 7th grade level, students generally extend understanding of previous concepts in the 6th grade rather than learn new concepts. They use their understanding of ratio to work with equivalent ratios and analyze proportional relationships to solve real world problems. Students take their initial work with solving simple expressions to generate and compare equivalent expressions and solve real world problems using numeric and algebraic expressions. They expand their understanding of fractions to include all rational numbers and continue using all four operations with fractions.
Supporting work
Students learn about random sampling as a statistical strategy for drawing inferences about a particular population. They also investigate the concept of probability, using and building models that describe situations involving chance.
Additional work
Students use their experience in the 5th grade of classifying geometrical figures based on properties to create, describe, and compare critical features of geometrical figures, including angle measure. They continue to use their understanding of area, surface area, and volume from 6th grade to solve real world problems.
---

The lesson plans in LearnZillion's full math curriculum, by LearnZillion, Inc. are licensed under a Creative Commons Attribution-NonCommercial-ShareAlike 4.0 International License.
Please attribute any derivative work to https://learnzillion.com.