Grade overview
What is included in the year?
Grade 5 LearnZillion Math Companion Curriculum consists of 15 units and a total of 159 lessons. Each lesson is designed to be completed in one 45-55 minute class period. Each unit includes a summative Unit Assessment designed to be completed in one class period, this assessment day is not included in the number of days allotted to lessons. The organization of the units, and lessons within each unit, creates a coherent sequence based on the progressions of the standards. As shown in the figure below, the majority of lessons are focused on the major work of Grade 5. The remaining lessons focus on supporting or additional clusters, often in the service of the major work. In fifth grade, 77% of lessons (122 lessons) are devoted to the major work of the grade. Many lessons dedicated to major work standards are enhanced and deepened by simultaneously engaging students in standards from supporting or additional clusters. In some instances when appropriate, students work only with supporting or additional work clusters.
Grade 5 lesson focus across major, supporting, and additional clusters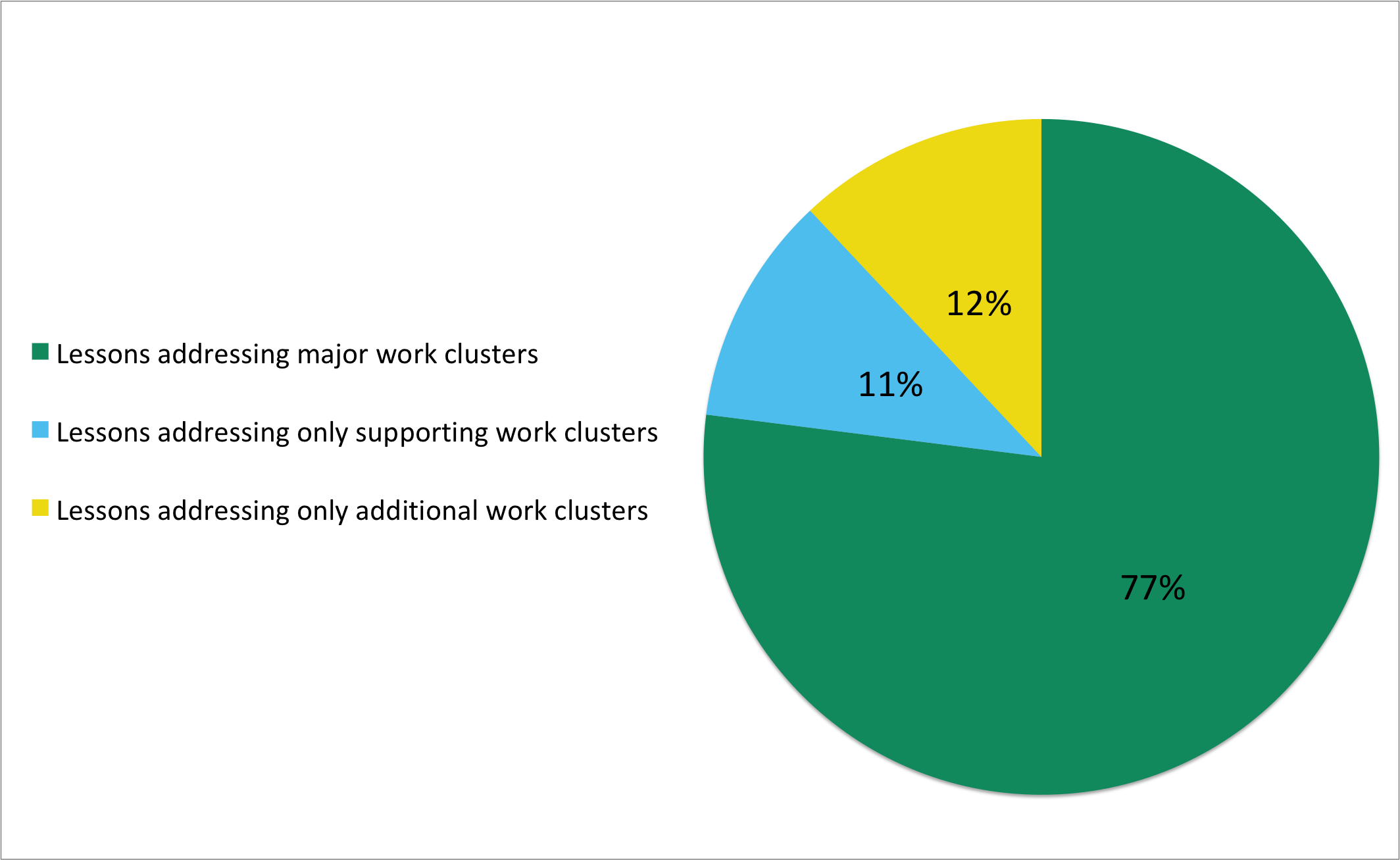 Grade 5 units across the year
| Unit | Title | Major work clusters | Supporting clusters | Additional clusters |
| --- | --- | --- | --- | --- |
| 1 | Understanding volume | 5.MD.C |   |   |
| 2 | Developing multiplication and division strategies | 5.NBT.B |   |   |
| 3 | Using equivalency to add and subtract fractions with unlike denominators | 5.NF.A |   |   |
| 4 | Expanding understanding of place value to decimals | 5.NBT.A |   |   |
| 5 | Understanding the concept of multiplying fractions by fractions | 5.NF.B |   |   |
| 6 | Comparing and rounding decimals | 5.NBT.A |   |   |
| 7 | Interpreting multiplying fractions as scaling | 5.NF.B |   |   |
| 8 | Developing the concept of dividing unit fractions | 5.NF.B |   |   |
| 9 | Solving problems involving volume | 5.MD.C |   |   |
| 10 | Performing operations with decimals | 5.NBT.B | 5.MD.A |   |
| 11 | Classifying two-dimensional geometric figures |   |   | 5.G.B |
| 12 | Solving problems with fractional quantities | 5.NF.B | 5.MD.B |   |
| 13 | Representing algebraic thinking |   |   | 5.OA.A |
| 14 | Exploring the coordinate plane |   |   | 5.OA.B, 5.G.A |
| 15 | Finalizing multiplication and division with whole numbers | 5.NBT.B |   |   |
---
Overview of Grade 5 Major, Supporting, and Additional Work
Major work of the year
The major work of fifth grade centers on the expanding the understanding of fractions as numbers which can be compared and operated on. Students develop fluency with adding and subtracting fractions, including adding fractions with unlike denominators. They build on the work of fourth grade with equivalent fractions to find fractions with like denominators. Students develop estimation strategies and benchmark fractions to allow them to evaluate the reasonableness of their answers. Fifth grade students apply their understandings of the properties of the multiplication and division to multiply two fractions and to divide a unit fraction by a whole number or a whole number by a unit fraction. They make use of visual models and connect the context to the strategies used and the results of their computation. Area and number line models continue to be important representations as students make meaning of the results of operating on fractions. Fifth grade students also explore scaling generalizations which lay the foundation for ratio and proportional reasoning in sixth grade.
Fifth grade students develop an understanding of volume. This work builds on the ideas about area and rectangular arrays developed in third grade, and the work with factors and multiples of fourth grade. Students recognize that volume is an attribute of three-dimensional space and that volume can be measured by finding the total number of unit cubes needed to fill a space. As students decompose three-dimensional shapes, they are able to view them as layers of arrays of cubes. They also decompose non-overlapping rectangular prisms and apply strategies for finding the volume of these complex figures. They apply knowledge of factors and multiples to find possible dimensions for a given volume and apply the associative property as they develop a formula for finding the volume. Students relate volume to the operations of addition and multiplication and solve real world problems related to the concept.
The major work of this grade also includes further exploration of the base ten number system. Students finalize fluency with the whole numbers and the four operations, extending division to 2-digit divisors. They integrate decimal fractions into the place value system and use whole number exponents to denote powers of ten. The comparison and ordering of decimals extends to the thousandths place. Students apply their understanding of models for decimals and decimal notation as they add and subtract decimals to the hundredths. They apply their understandings of models for decimals, decimal notation, and properties of operations to add and subtract decimals to hundredths. The major work of fifth grade includes understanding the relationship between finite decimals and whole numbers, including understanding what happens when we multiply a decimal by a power of ten. Students apply their understandings of multiplication and division of whole numbers to efficiently and accurately find the products and quotients of decimals to the hundredths.
Supporting work
The supporting work of grade five is connected to developing further understandings of decimals, fractions, and the place value system. As fifth grade students solve measurement problems they extend their abilities to express measurements in smaller or larger units within a measurement system. Within the context of multi-step real-world problems, students work with both metric and customary measurement systems. The role of estimation and the reasoning about results continues to be central to this work.
As fifth grade students gather, represent and interpret data, they encounter a context where they can apply their understandings of fractions and the operations. The work of measuring with fractional units is extended to measuring objects within one-eighth of a unit. Length, mass, and liquid volume problems lend the opportunity to construct line plots to represent the data. Students can then add and subtract fractions and mixed numbers to answer questions about the data.
Additional work
The additional work of fifth grade supports students in developing clear and concise notation for their calculations and supports the upcoming work with variables in sixth grade. Fifth grade students begin working more formally with expressions, writing an expression to represent a calculation. The grouping symbols are an opportunity to further explore the associative and distributive properties. Fifth grade students are also able to verbally describe the relationships represented by an expression without doing the calculations. Reasoning about the operations and place value ideas are solidified as students describe these relationships.
Fifth grade students continue the work with attributes of two-dimensional figures as they sort and classify figures. They begin to describe how attributes belonging to a category also belong to all the subcategories of that category. They can attend to more than one attribute at time and note the relationships among shapes in a category. Students are able to classify shapes in a hierarchy. The work with the coordinate plane in this grade offers students an extended opportunity to draw and describe objects including identifying the coordinates of missing points in geometric figures such as parallelograms.

The lesson plans in LearnZillion's full math curriculum, by LearnZillion, Inc. are licensed under a Creative Commons Attribution-NonCommercial-ShareAlike 4.0 International License.
Please attribute any derivative work to https://learnzillion.com.