Table of contents
Overview of Kindergarten Major, Supporting, and Additional work
---
Units
---
What is included in the year?
In Kindergarten, LearnZillion Math Curriculum consists of 16 units and a total of 155 lessons. Each lesson is designed to be completed in one 45-55 minute class period. Each unit includes a summative Unit Assessment designed to be completed in one class period, this assessment day is not included in the number of days allotted to lessons. The organization of the units, and lessons within each unit, creates a coherent sequence based on the progressions of the standards. As shown in the figure below, the majority of lessons are focused on the major work of Kindergarten. The remaining lessons focus on supporting or additional clusters, often in the service of the major work. In Kindergarten, 73% of lessons (113 lessons) are devoted to the major work of the grade. Many lessons dedicated to major work standards are enhanced and deepened by simultaneously engaging students in standards from supporting or additional clusters. In some instances when appropriate, students work only with supporting or additional work clusters.
Kindergarten lesson focus across major, supporting, and additional clusters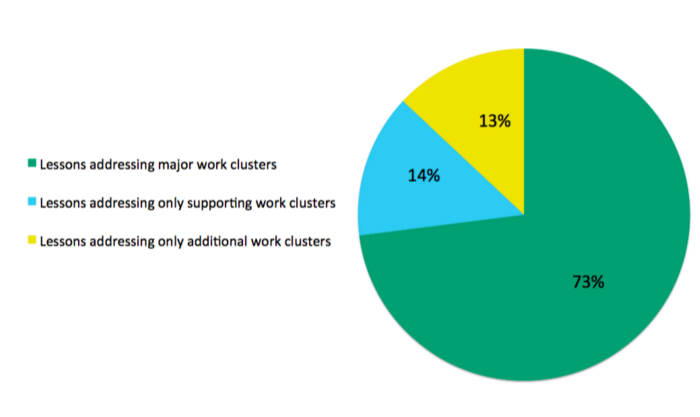 Kindergarten units across the year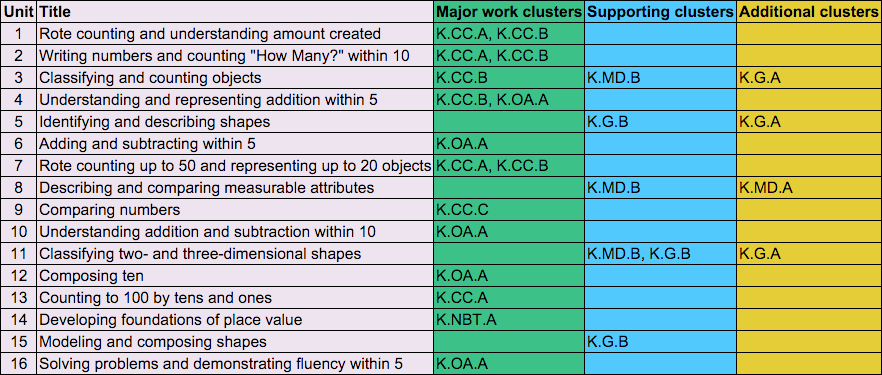 ---
Overview of Kindergarten Major, Supporting, and Additional Work
Major work of the year
The major work in Kindergarten revolves around the ideas of counting and cardinality, the operations of addition and subtraction, and foundational place value ideas.
Students learn that quantities can be counted, compared, joined, and separated. Throughout Kindergarten, students develop strategies for recognizing quantities both through accurate counting methods and by quickly recognizing small sets of objects. They come to understand that these quantities can be represented with numerals, and work to solve quantitative problems such as counting objects in a set, counting out a given number of objects, and comparing sets or numerals.
Solving problems about joining and separating quantities launches students' understanding of addition and subtraction. Kindergarten students are exposed to equations such as 2 + 3 = 5 and 5 - 2 = 3 as representations of their actions with quantities, but are not required to generate them.
Students build fluency within five as they understand and internalize the relationships that exist between and among numbers, and begin constructing foundational place value ideas as they work with the numbers 11-19.
Supporting work
Experiences with sorting and counting sets of objects support the major work in Kindergarten. Students note similarities and differences and begin to identify attributes that allow them to classify objects. They can then solve quantitative problems about these sets of objects, such as identifying which set has more or less objects.
Additional work
Additional work in Kindergarten supports both the major and supporting work. Students in Kindergarten develop language for describing attributes of shape. They move from informal language to more formal mathematical language. Kindergarten students learn to identify two dimensional shapes and three dimensional objects by their geometric terms. Students understand that shapes can be composed from and decomposed into other shapes, and they develop language to describe the position of objects in space. Students also learn to describe and compare measurable attributes such as length and weight. They use direct comparisons to describe which object has "more or less" of a certain attribute.
---

The lesson plans in LearnZillion's full math curriculum, by LearnZillion, Inc. are licensed under a Creative Commons Attribution-NonCommercial-ShareAlike 4.0 International License.
Please attribute any derivative work to https://learnzillion.com.