Grade overview
What is included in the year?
The Grade 4 LearnZillion Math Companion Curriculum consists of 14 units and a total of 160 lessons. Each lesson is designed to be completed in one 45-55 minute class period. Each unit includes a summative Unit Assessment designed to be completed in one class period. This assessment day is not included in the number of days allotted to lessons. The organization of the units, and lessons within each unit, creates a coherent sequence based on the progressions of the standards. As shown in the figure below, the majority of lessons are focused on the major work of Grade 4. The remaining lessons focus on supporting or additional clusters, often in the service of the major work. In fourth grade, 75% of lessons (119 lessons) are devoted to the major work of the grade. Many lessons dedicated to major work standards are enhanced and deepened by simultaneously engaging students in standards from supporting or additional clusters. In some instances when appropriate, students work only with supporting or additional work clusters.
Grade 4 lesson focus across major, supporting, and additional clusters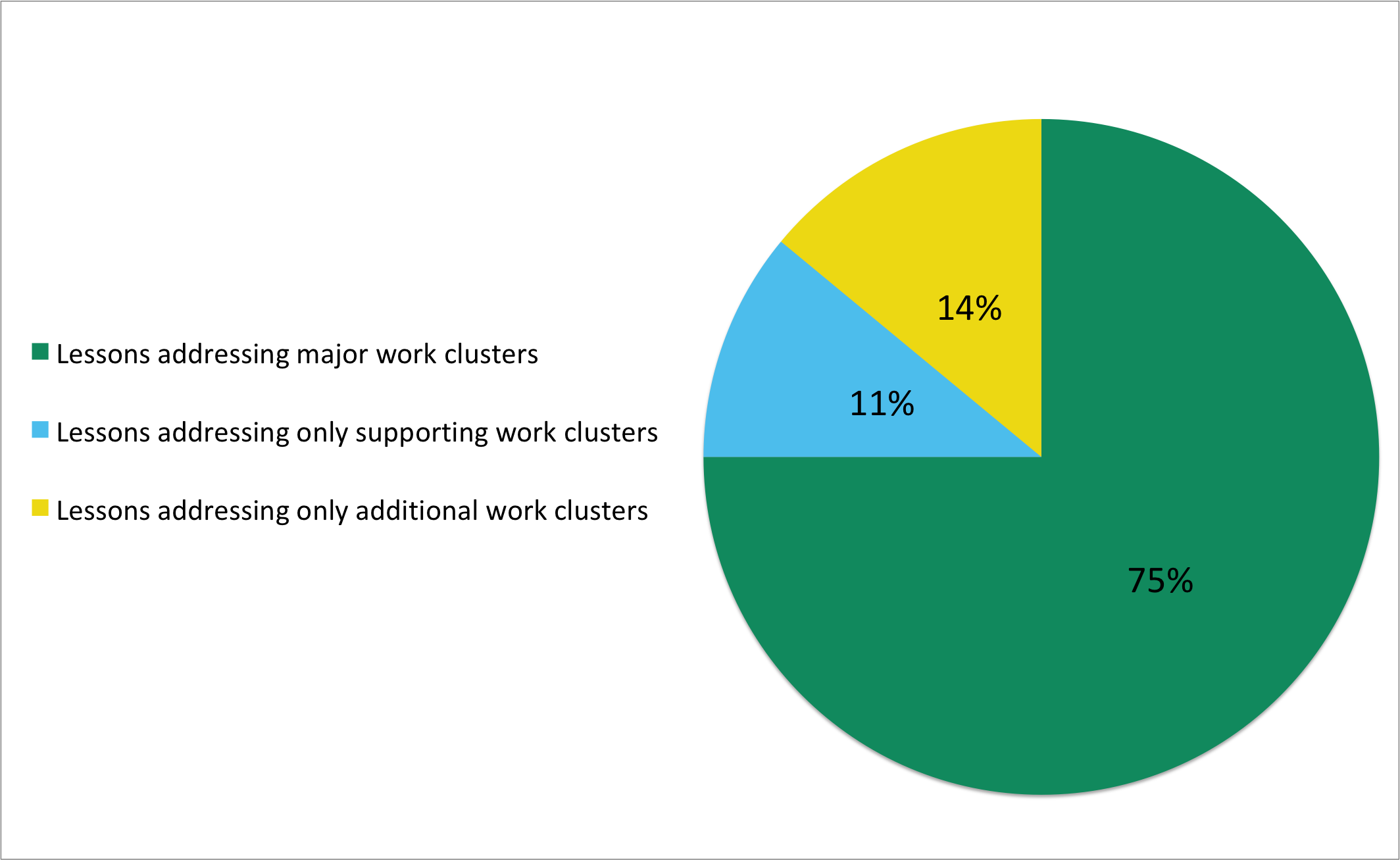 Grade 4 units across the year
| Unit | Title | Major work clusters | Supporting clusters | Additional clusters |
| --- | --- | --- | --- | --- |
| 1 | Applying place value concepts in whole number addition and subtraction | 4.NBT.A, 4.NBT.B, 4.OA.A |   |   |
| 2 | Exploring multiples and factors |   | 4.OA.B | 4.OA.C |
| 3 | Using multiplication and division strategies with larger numbers | 4.NBT.B, 4.OA.A | 4.MD.A |   |
| 4 | Decomposing and composing fractions for addition and subtraction | 4.NF.B |   |   |
| 5 | Understanding fraction equivalence and comparison | 4.NF.A |   |   |
| 6 | Comparing decimal fractions and understanding notation | 4.NF.C |   |   |
| 7 | Introducing measurement conversions | 4.NBT.A, 4.OA.A | 4.MD.A |   |
| 8 | Solving problems using multiplicative comparison | 4.NBT.A, 4.OA.A | 4.MD.A |   |
| 9 | Solving measurement problems using the four operations | 4.NBT.B, 4.OA.A | 4.MD.A |   |
| 10 | Solving addition and subtraction word problems involving fractions and mixed numbers | 4.NF.B | 4.MD.B |   |
| 11 | Multiplying fractions by whole numbers | 4.NF.B, 4.OA.A |   |   |
| 12 | Angle measurement |   |   | 4.G.A, 4.MD.C |
| 13 | Recognizing and analyzing attributes of 2-dimensional shapes |   |   | 4.G.A, 4.OA.C, 4.MD.C |
| 14 | Problem solving with whole numbers | 4.NBT.B, 4.OA.A |   |   |
---
Overview of Grade 4 Major, Supporting, and Additional Work
Major work of the year
The major work of fourth grade extends the meanings students developed for multiplication and division in third grade. This understanding is the foundation for the fluency with multi-digit multiplication and division that is major work in fourth grade. Students now generalize their understanding of place value to 1,000,000. They recognize the structure of the number system and can reason about the magnitude of the digits in a number. Fourth graders should be given many opportunities to reason and analyze the relationships among numbers. As they do this work, they become proficient in writing, comparing, and representing numbers with expanded form. They bring meaning to the process of rounding numbers and see the usefulness of estimation.
Students understand how the base ten structure of our number system can be useful as they develop methods for computing the products and quotients of multi-digit numbers. The application of the distributive property is further explored and applied as students use arrays and area models to solve problems. Students are able to find whole number quotients and remainders with up to four-digit dividends and one-digit divisors. Fourth graders spend time analyzing contexts and making meaning of the remainders in division situations. Students are able to make choices about which strategies they will use and become efficient, accurate, and flexible in solving division problems.
Fourth grade students solve multi-step problems involving all four operations. They are able to understand the structure of multiplicative comparison problems and can represent problems using equations with a letter standing for the unknown quantity.
The major work of this grade includes substantive work with rational numbers. Fourth grade students extend the fraction work of third grade as they develop additional strategies for comparing fractions with unlike denominators and develop an understanding of fraction equivalence. The work with fractions on a number line extends as students recognize that a location on the number line can be represented with more than one fraction ( e.g., \(\frac12\) and \(\frac36\)). They develop methods for generating and recognizing equivalent fractions. Students extend their understanding of the role of the unit fraction as they compose fractions from unit fractions. Fourth grade students add and subtract fractions and mixed numbers with like denominators and represent those actions with both area and number line models. Students apply the meaning of multiplication as they use visual models and situational contexts to solve problems involving multiplication of a fraction by a whole number.
Fourth grade students connect their understanding of the base ten structure and the meaning of fractions as they are introduced to decimal fractions. Students should have ample opportunities to explore and reason that a number can be written as a fraction or a decimal. They understand the notation for decimal fractions and are able to use visual models and reasoning to compare decimals to the hundredths. Students further justify that these comparisons are valid when both numbers refer to the same size whole.
Supporting work
The supporting work of grade four supports the major work standards as students explore factors and multiples. Students find all the factor pairs of a whole number 1 to 100 and develop meaning for prime, composite, and square numbers. This work will support students' methods for generating equivalent fractions and for developing efficient computation strategies.
Fourth grade students also solve a variety of measurement problems. As students convert measurements from a larger unit to a smaller unit or from a smaller unit to a larger unit, they are calling upon applications of major work concepts related to place value and multiplication and division. The new units of measurement encountered in this grade include cups, pints, quarts, gallons, pounds, ounces, kilometers, millimeter, milliliters, and seconds. Students extend the work of third grade with perimeter and area as they solve situational problems related to these concepts.
The supporting work of this grade also includes work representing and interpreting data. Fourth grade students generate measurement data expressed as fractions and represent the data in a line plot. This affords students an opportunity to apply their strategies for adding and subtracting fractions.
Additional work
The additional work of this grade in the area of geometric measurement involves understanding the concept of angle and angle measurement. Students develop an understanding of angle as rotation and make use of fraction concepts and computation methods to solve problems involving the decomposition and composition of angles.
Students also extend the work of third grade with a further exploration of arithmetic patterns. Fourth grade students need many opportunities to explore and extend both geometric and numerical patterns. This work supports fluency with combinations and the operations.
Additional work at this grade includes understanding that geometric figures can be analyzed and classified based on their properties. The work in fourth grade includes exploring attributes of shapes such as parallel sides, perpendicular sides, specific angle measures (e.g., right angles), and symmetry. As students build and draw two-dimensional shapes they deepen their understanding of the properties of shapes and can use those understandings to solve problems.

The lesson plans in LearnZillion's full math curriculum, by LearnZillion, Inc. are licensed under a Creative Commons Attribution-NonCommercial-ShareAlike 4.0 International License.
Please attribute any derivative work to https://learnzillion.com.