In this lesson, students use collections of objects to make sense of and use ratio language. Students see that there are several different ways to describe a situation using ratio language. For example, if we have 12 squares and 4 circles, we can say the ratio of squares to circles is \(12:4\) and the ratio of circles to squares is 4 to 12. We may also see a structure that prompts us to regroup them and say that there are 6 squares for every 2 circles, or 3 squares for every one circle (MP7).
Expressing associations of quantities in a context—as students will be doing in this lesson—requires students to use ratio language with care (MP6). Making groups of physical objects that correspond with "for every" language is a concrete way for students to make sense of the problem (MP1).
It is important that in this first lesson students have physical objects they can move around. Later, they will draw diagrams that reflect the same structures and learn to reason with and interpret abstract representations like double number line diagrams and tables. Working with objects that can be physically rearranged in the beginning of the unit can help students make sense of increasingly abstract representations they will encounter as the unit progresses. Students will continue to develop ratio language throughout the unit and will learn about equivalent ratios in a future lesson.
Lesson overview
1.1 Warm-Up: What Kind and How Many? (5 minutes)
1.2 Activity: The Teacher's Collection (10 minutes)
1.3 Activity: The Student's Collection (20 minutes)

Includes "Are you Ready for More?" extension problem

Lesson Synthesis
1.4 Cool-Down: A Collection of Animals (5 minutes)
Learning goals:
Comprehend the word "ratio" (in written and spoken language) and the notation 

\(a:b\)

 (in written language) to refer to an association between quantities.
Describe (orally and in writing) associations between quantities using the language "For every 

\(a\)

 of these, there are 

\(b\)

 of those" and "The ratio of these to those is 

\(a:b\)

 (or 

\(a\)

 to 

\(b\)

)."
Learning goals (student facing):
Let's describe two quantities at the same time.
Learning targets (student facing):
I can write or say a sentence that describes a ratio.
I know how to say words and numbers in the correct order to accurately describe the ratio.
Required materials:
teacher's collection of objects
students' collections of objects
tools for creating a visual display
Required preparation:
A few days before this lesson, ask students to bring a personal collection of 10–50 small objects.
Examples include rocks, seashells, trading cards, or coins.
Bring in your personal collection and display it ahead of time.
Think of possible ways to sort your collection. (See the Launch section of the first activity for details.)
Prepare a few extra collections for students who don't bring one.
Glossary:
ratio - A ratio is an association between two or more quantities. For example, the ratio 

\(3:2\)

 could describe a recipe that uses 3 cups of flour for every 2 eggs, or a boat that moves 3 meters every 2 seconds. One way to represent the ratio 

\(3:2\)

 is with a diagram that has 3 blue squares for every 2 green squares.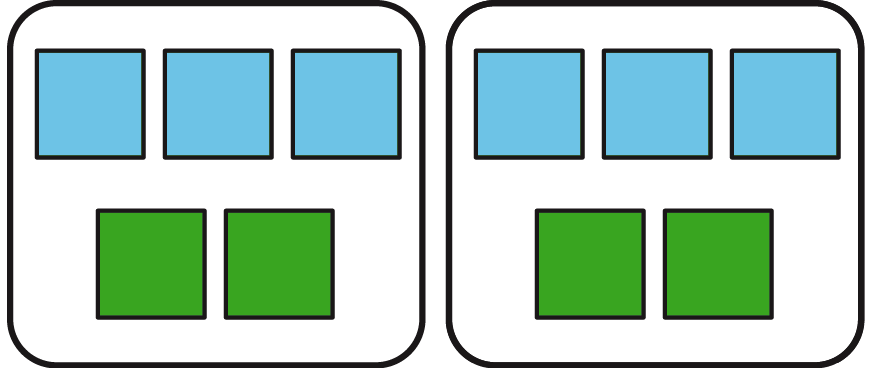 Access the complete Grade 6 glossary.
Standards
This lesson builds on the standard: 

CCSS.3.MD.C.6

MS.3.MD.6
IM 6–8 Math was originally developed by Open Up Resources and authored by Illustrative Mathematics, and is copyright 2017-2019 by Open Up Resources. It is licensed under the Creative Commons Attribution 4.0 International License (CC BY 4.0). OUR's 6–8 Math Curriculum is available at https://openupresources.org/math-curriculum/.
Adaptations and updates to IM 6–8 Math are copyright 2019 by Illustrative Mathematics, and are licensed under the Creative Commons Attribution 4.0 International License (CC BY 4.0).
Adaptations to add additional English language learner supports are copyright 2019 by Open Up Resources, and are licensed under the Creative Commons Attribution 4.0 International License (CC BY 4.0).
The Illustrative Mathematics name and logo are not subject to the Creative Commons license and may not be used without the prior and express written consent of Illustrative Mathematics.
This site includes public domain images or openly licensed images that are copyrighted by their respective owners. Openly licensed images remain under the terms of their respective licenses.